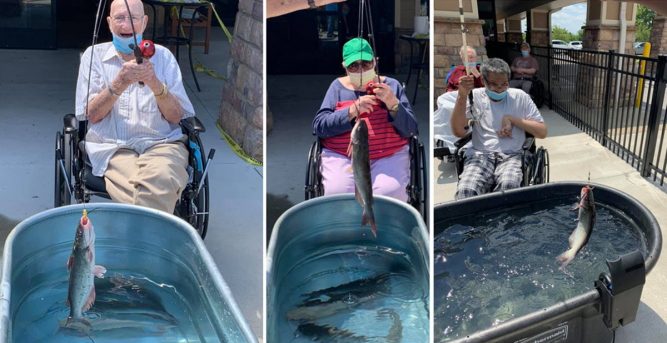 A long time ago, I worked as an activity director for a retirement home and nursing facility and it was very rewarding work. Although it was typically a little slower paced than I enjoyed, I really grew to love my residents. They taught me so much and brightened my life more than they ever knew. But I confess that compared to some of the rock star activity directors I see on the internet, I had no idea what I was doing. My stuff was pretty boring. Bingo, exercise class, singing, ice cream sundaes, etc…But some of these ideas I see online blow all of my ideas out of the water. The latest? Take the residents fishing.
Now getting residents out of the nursing home and onto the creek bank isn't as easy as you'd imagine. Many of these folks have mobility issues that make any sort of outdoor activity like fishing nearly impossible. And now, with the complications of the COVID-19 pandemic, things are even more challenging for activity directors. Their residents can't have visitors and the activity directors are having to work extra hard to try to bring some rewarding experiences to the facilities. The residents at Creekwood Place Nursing and Rehabilitation in Russellville, Kentucky have an excellent activity director.
Tammy Tinsley does a great job of thinking outside the box and finding fun and creative things for her residents to enjoy. Last week, she brought in a tank of catfish so that they could go fishing right there in the yard of their facility. They didn't even have to put on outdoor shoes to enjoy some time with the pole. Tammy realized that it had probably been years and even decades since her people had been fishing and that's an activity that many of them probably really enjoyed.
As it turns out, it was easier than she expected to make it all happen. She contacted the local Tractor Supply store, who agreed to loan her a tank for a day.
Then the facility's maintenance worker, Kevin Morrow, went to pick up the fish.
They gathered everyone together and some really happy residents got some fishing done!
We can only imagine the memories that this brought back to these people and they got to get outside and get some of that healthy vitamin D from the sun at the same time.
The facility couldn't be happier with Tammy. They have a true gem in her and they seem to know it. In a Facebook post, the director said that Tammy is "the brains behind the amazing activities."
"Our residents absolutely loved this and my heart was happy seeing those smiles!" the facility wrote on Facebook. "Thank you to all Creekwood staff for everything you do daily to enrich the lives of others."