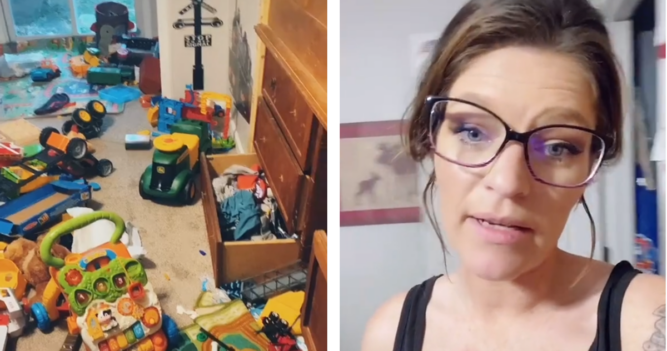 Everyone has their own way of dealing with their children, and most parents want to be good parents. However, parenting is a hard job and it can be overwhelming at times. One mom on TikTok is getting criticized by some and applauded by others because she threw away her little boy's toys when he refused to clean. She says that when she asked him more than once to clean his room, he said, "No, you clean it, Mommy." That rubbed her the wrong way, apparently, and she decided to just toss his toys in the trash. Many people pointed out that the child is probably very young.
They're basing this on the toys in his room, saying that he's probably between age three and six. The mom said that to her, the little boy disrespected her by telling her to clean the room herself. Specifically, she says she is not raising disrespectful men and it's not a woman's job or a mom's job to do anything. Her way of thinking is that if you make a mess, you clean it up. If you see your mom struggling, you're supposed to help her, she says. She thinks the little boy had the attitude of just watching a woman struggle. While I'm on board with teaching little boys to respect women, there are some points to be made here.
For one thing, how old was the child? It looked like an overwhelming job for a small child, to be honest. I know I can feel overwhelmed by a huge task and not knowing where to start. Maybe the mom could have approached this differently and used it as a different kind of teaching moment. For example, she could have taught him some project management and how to break up a big job into smaller tasks.
On the other hand, maybe she just wanted a viral TikTok video. Watch the video below.