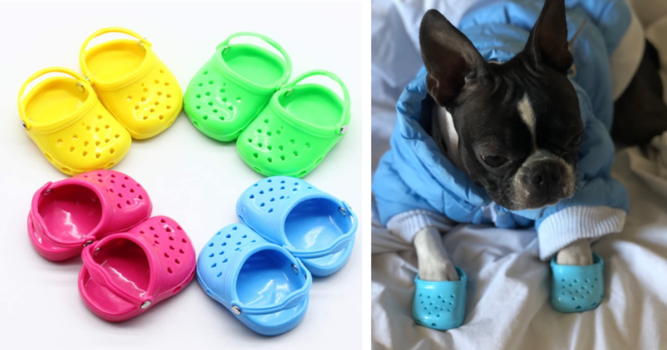 What do you think about the folks who dress up their dogs in clothing? I don't think our dogs here at my house would let us do that, but hey, if that's you and your dog's thing, go for it. Lots of companies sell clothing and slippers for dogs and cats alike, and it's hard to say what the animals think about, but I'm thinking that as long as it's not uncomfortable, they won't protest. For a long time, it's been popular to sort of "humanize" our pets and that trend doesn't seem to be going away any time in the near future.
However, we recently saw something that made us do a doubletake. Someone on Amazon is selling tiny and adorable Crocs for dogs. They're probably not really actual Crocks, but they're "Croc-like" slippers that fit dogs' feet, apparently. There's one concern that is completely valid when it comes to dogs wearing things on their feet. If you live in the city and you're walking your dog, you risk your dog stepping on debris, broken glass, and even hot pavement. Dog feet aren't designed to survive on hot pavement and just as it can hurt our feet, it can hurt theirs. So this thing with dogs wearing shoes is more than just humans being silly.
Crocs have been around for a long time. Based in Niwot, Colorado, the company makes foam clogs that have become popular with people of all ages. In the beginning, they came in just a few colors, but before long, there was a Croc in any color you could imagine, including bright neon colors and pattern prints. The shoe was originally created as a boating shoe and was unveiled in 2001 at a boat show in Florida.
Me: "I should start saving money"
Also me: *buys my dog crocs* pic.twitter.com/fLPV33o4jT

— laly (@eedalyy) February 10, 2021
These doggy Crocs only come in one size, unfortunately, and it's quite small. Some of the reviews on Amazon even suggest that they're actually shoes for dolls. Judge for yourself, and remember, if you look good, you'll feel good! That goes for your dogs, too.