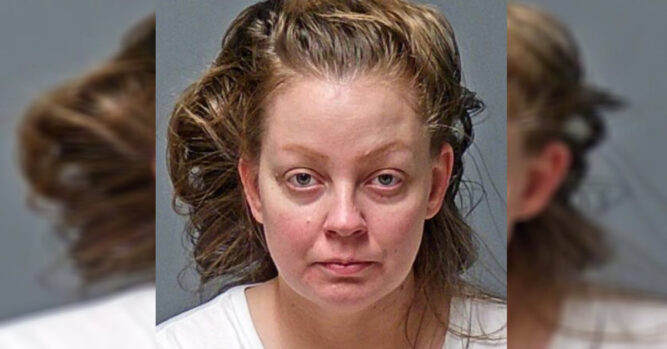 There are many different types of love that we may experience in our lifetime, but one of the most powerful forms of love is what a mother feels for her children. It just seems to be something that is built-in and from the moment they first lay eyes on their children, it is a bond that sticks around for life. In fact, women are made to feel those feelings and certain hormones are higher in a woman shortly after giving birth, leading to some of those emotions. At the same time, however, it is more than just chemistry taking place, it is often true love in action.
That is what makes us so shocked and amazed when we hear about a mother who acts contrary to that type of behavior. A 35-year-old mother in Manchester, Stephanie Goddu fits into that category. She has been arrested and is being charged with child endangerment because she sent her three-year-old child alone to daycare in a Lyft. When police arrived at her home, they also discovered that another child was left in a carrier, strapped in and wearing urine-soaked clothing. That young child was also dressed warmly and was only a few feet away from the heater.
Have you seen this woman? The MPD is actively looking for 35 y/o Stephanie Goddu. She is wanted on Endangering the Welfare of a Child charges in connection with her children. Call MPD at 603-668-8711 with info.https://t.co/cX6n3z4DjI pic.twitter.com/gv63pPoj94

— Manchester NH Police (@mht_nh_police) January 8, 2021
Unfortunately, this type of story is one that is told far too often. Goddu seemed to be disoriented and incoherent and when the police officers would ask her questions, she had a difficult time answering them.
Manchester police have arrested Stephanie Goddu. She was wanted on two counts of Endangering the Welfare of a Child. The incidents involved her own children. https://t.co/d0hiiww1W9 pic.twitter.com/HhAU3pF5mv

— Manchester NH Police (@mht_nh_police) January 9, 2021
The good news is, the children are now safe and even the three-year-old was able to safely arrive at daycare in the Lyft vehicle. Since Stephanie barricaded herself inside of her home, she is also being charged with resisting arrest.