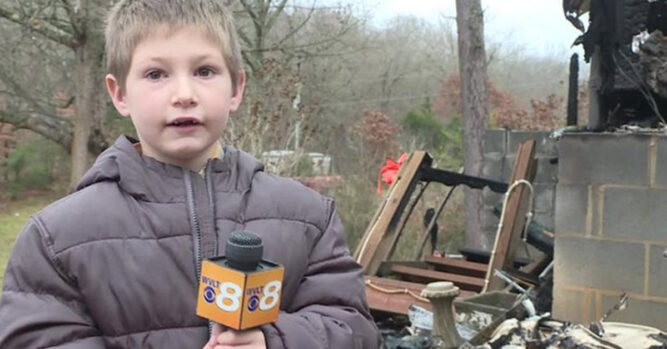 When we watch the news, if we can handle watching it, it is often very negative events that seem to make the headlines. I believe that all of us understand that bad news sells, and the news networks do take advantage of it by getting us coming back over and over again. At times, we want nothing more than to hear something positive and when we hear it, it really warms our hearts. It seems as if the positive news that all of us need is coming out of New Tazewell, Tennessee. It's a story that is going to touch your heart because it shows the love of a brother toward his little sister.
The family that lives in the area, Chris and Nicole Davison, had their three children at home with them on December 8. Not only do they have children of their own, but they have also fostered 34 children and both the mother and father have worked as firefighters in the past. Two of the children that were with them that night included Elijah, a two-year-old and a 22-month-old baby girl, Erin. The night was going along as expected but Nicole woke up and smelled smoke. They grabbed Eli, a seven-year-old, and Elijah and ran out the door but unfortunately, they couldn't get to Erin because the flames had blocked their path.
Rather than trying to rush through the flames, they ran outside and went to the little girl's window. Chris wasn't able to get into the window so he asked Eli to do the impossible. He lifted up Eli, who went in through an open window and grabbed his baby sister from the crib.
Although they were able to save everyone from the fire, the house was a total loss. They did set up a GoFundMe account to help the family get back on their feet, and have raised over $360,000 to do so. We wish the best for this family and love hearing about the heroism of a young boy and the love he showed for his sister.
Eli's sister's room was surrounded by flames.

So he climbed through her window, ran to her crib, and carried her to safety.

To help the Davidson family rebuild, visit their GoFundMe: https://t.co/n8IkxpcUGVhttps://t.co/wgzYjiviYy

— GoFundMe (@gofundme) January 14, 2021