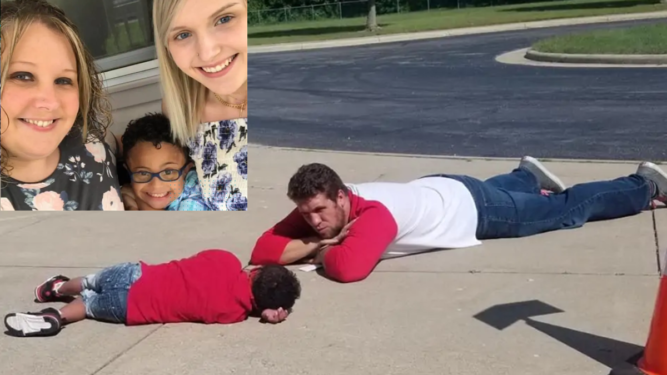 Recently, a photo was taken of an assistant principal laying on the ground with a student, that's spreading online like wildfire. And, the story behind the picture is also touching people's hearts around the world.
LJ is an eight-year-old from Marion, Ohio, who attends Garfield Elementary. Although LJ tends to be one of the happiest and most outgoing children you'll find — the third-grader must also deal with being autistic and having Down syndrome, which can be very difficult some days.
Steph Compton (LJ's mom) told WCMH:
"If he's not smiling or laughing…which is most of the time, but there's something really wrong."
One day, LJ experienced an incident at school that left the little boy very upset.
It all started when the bus was running late to pick him up to go home. Most children, under those circumstances, would not be pleased — especially after a long day in the classroom.
LJ, who was understandably upset and frustrated, decided to lay on the ground to wait for his bus. However, the new Assistant Principal, Mr. Smith, wasn't about to just let the child do it alone.
The young man lowered himself onto the concrete to help little LJ feel better. According to WCMH, another Garfield employee named Amber Mckinniss snapped this heartwarming photo capturing the scene.
Compton was simply blown away after seeing the photo, which highlighted an act of kindness that meant a lot to her and her family. The mom decided to share it with the world on Facebook.
She also posted this note along with it:
"I absolutely LOVE this… LJ's school has a new assistant principal this year… Mr. Smith… apparently LJ was having a "moment" and he got down on his level to help him out ❤️ This is why even though we live across town… LJ still goes to Garfield!!!"
Sometimes it's the little things we do for others that makes the greatest difference in the world. Mr. Smith took the time out of his day to care for a little boy in distress, while not being afraid to get down to his level to help — goes to prove that not all angels have wings.
Compton's post was well-received by many others, who too have fallen in love with the touching moment captured on camera.
Many folks who have left comments actually know the assistant principal personally and agree that he's an outstanding educator. One wrote:
"Mr. Smith has always been one of my favorite teachers. always talked to me whenever things got tough !! best teacher/human!!"
Another person mentioned how Mr. Smith is definitely in the right line of work, while someone else wrote about how lucky Garfield is to have him there. Mckinniss (the photographer) also left a comment, saying:
"I just had to snap a picture. It was the most amazing thing ive seen! our hearts melted and lj enjoyed it lol"
LJ's mom is so grateful for what happened that day while her son waited for the school bus.
As parents, it's not easy seeing your child upset, especially when you can't be there to comfort them. You can only hope that there are people in this world with kind hearts who will look out for them in situations where they need someone when they are sad, hurt, or just need an encouraging word or two to make things better.
Compton also told the news outlet:
"It's really awesome to know from a parent's standpoint, that there are people that care that much about your child. To get down on the ground, and lay on the ground with them to make sure that they're alright."
You can see LJ's mom talking about the heartwarming moment in the video below.
What did you think of Mr. Smith's actions? Let us know in the comments section. Also, please be sure to share this inspirational story with your friends and family.
Source: Shareably