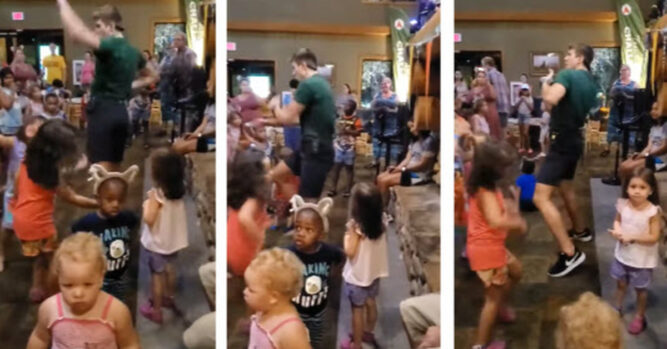 It doesn't matter how old we are, when we are on vacation, we want to have a good time. Of course, our definition of a good time may be different from someone else but when we return from vacation rested and ready to take on the world, we know we did things right. Adults might enjoy sitting around and resting with a drink in their hands in order to unwind but for children, the options are usually a little more active. Fortunately, many vacation locations are more than equipped to ensure that the kids have a great time.
That was seen recently at the Great Wolf Lodge. It is a wonderful area for adults to get in some rest and relaxation or to even have an active vacation but they don't leave the kids out of the mix. In fact, the stage 'Camp In' dance parties at the Sandusky, Ohio location and that is where this video was taken. An employee of the Great Wolf Lodge, Brandon Fries put on a performance that day that is not going to be quickly forgotten. The song that was playing was Beyonce's 'Crazy in Love' and the video of what he was doing is going viral for all the right reasons.
You can see him in front of a stone fireplace, dancing to the song as if it was his very own. In fact, he does the dance so perfectly that is is a wonder he kept it kid-friendly.
"I just love to entertain people and make people happy," Fries said. "I feel so overwhelmed and so happy with all the positive reviews that [the video is] getting."
The kids were loving it, and we just wish the video didn't cut him off before we could see him take on the Black Eyed Pea's "I Got A Feeling."
You can see it for yourself in this video:
Source: Mashable