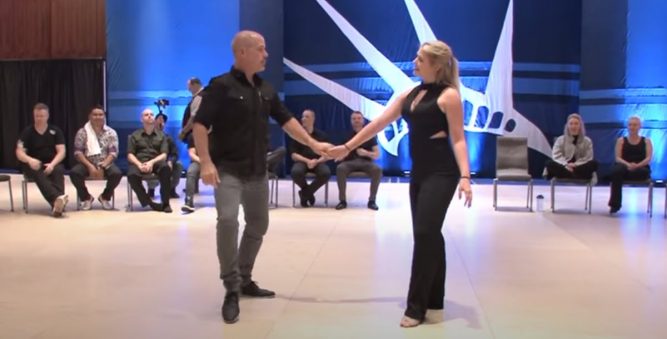 Every year, a competition called the Liberty Swing Dance Championships happen in New Brunswic, New Jersey, and it looks like a blast. For the event, dancers enjoy various workshops, four nights of social dancing, and West Coast Swing competitions. The annual competition is run by legendary swing dancer John Lindo, however, this year, he had to cancel his "Johnvitational" because of the coronavirus pandemic and the restrictions and safety issues that have come along with that. Currently, he's doing some of the schedule online and you can watch some of his "best of" videos online.
An all-time favorite is a beautiful demonstration by Robert Royston and Alexis Garrish, with a hilarious cameo by Lindo himself. Not just a dancer, Royston is also a well-known choreographer who holds an impressive eight U.S. Open Swing Dance Championship titles in five different divisions. He also holds six World Country Dance Championship Titles in two divisions, three U.S.A. Grand National Championships Titles in two divisions, and the national titles in the categories of salsa, hustle, and cabaret. Well, that's an accomplished dancer! Not surprisingly, he holds a place in the California Swing Dance Hall of Fame.
Also, Royston has choreographed tours and videos for Taylor Swift. As for Ms. Garrish, her career is just getting started and she'll no doubt earn many accolades of her own. As of now, she has a U.S. Open Swing Dance Championship to her name in the Young Adult Division. She also has world championships in the polka, two-step, triple two-step, cha-cha, nightclub, waltz, and West Coast and East Coast Swing categories. In the video below, you'll see these two accomplished dancers perform the "Jack and Jill" portion of the invitational. This is interesting because they don't get to practice.
In the "Jack and Jill," you're assigned your dance partners and songs right before the performance starts. Lindo picks Garrish to dance next, then chooses her partner as they stroll up and down the line of potential dancers. This is one of the best improvisations ever.