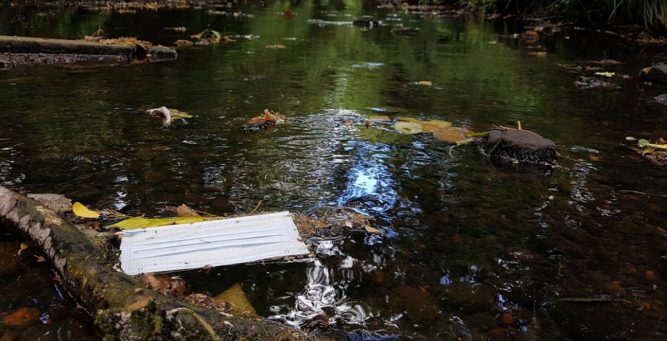 The COVID-19 pandemic has brought unprecedented change to most places in the world as we all struggled to make sense of a new reality and cope with it the best we could. Something good happened while all of us were on lockdown: the environment got a break from the destructive humans. Animals began coming out of the forests and in some smog-heavy places in the world, people could see into the distance again. The memes were everywhere saying "the earth is healing." But of course, humans found another way to mess that up. One thing that's a new way of life for most of us is the use of face masks and gloves.
We're wearing this PPE (personal protective equipment) when we go out to protect ourselves and to slow the spread of the virus. Also, of course, medical personnel have to wear them to protect themselves and try to prevent spreading the virus to their patients who aren't infected. Unfortunately, as with everything, there is a cost to our world and our environment as we are now throwing away all of these masks and gloves. A new and horrifying side effect of the coronavirus pandemic is 194 billion masks and gloves that are being used and discarded every month. Now, these products are polluting the planet in shocking ways and are beginning to show up on beaches, in rivers and streams, and in oceans.
Although wearing PPE is often essential, remember to take care when throwing away used items. Not only are they hazardous to other people, it's all too easy for discarded masks and gloves to end up in watercourses.
Find a bin, do it properly.#Loveyourriver #PPE #coronavirus pic.twitter.com/QWCXSuWtNp

— Wessex Rivers Trust (@WessexRivers) August 7, 2020
A new study published in the Environment, Science & Technology journal suggests that at least 129 billion face masks and 65 billion gloves (194 billion in total) are being used every month around the world. This is resulting in what scientists are calling "widespread environmental contamination" and what is becoming a catastrophic new wave of garbage in our rivers and oceans.
😷 After spending hours removing hundreds of littered #PPE items from the environment over the last few weeks, we were thrilled to see this featured in the @Telegraph today!

🗣 Only when we know better, can we do better…

📸 By The Compass pic.twitter.com/cMr4hD7kgo

— Beach Guardian (@PlasticWaive) August 7, 2020
The problem, of course, is human behavior. People aren't properly disposing of their used PPE. This was predicted early this year by the World Wildlife Fund, who said that if only one percent of the masks used were disposed of incorrectly and "dispersed into nature," it would result in as many as 10 million masks a month adding to the pollution on the planet. A marine biologist named Emily Stevenson is already seeing this play out. Known as the "Beach Guardian," Emily recently went to pick up litter from a Cornwall beach along England's southwestern coast, and she found at least 171 pieces of discarded PPE in just an hour. In a previous visit, she found only six PPP items.
171 discarded face masks and gloves found on Cornish coastline in one hour pic.twitter.com/mUqUvvMHZP

— The Independent (@Independent) August 6, 2020
Even worse is the garbage we can't see. Emily and her dad founded The Beach Guardian project in 2017 and in recent months, they've found evidence of PPE "actually sinking below the ocean surface. This means that there could be a totally unaccounted for concentration of PPE pollution on the seafloor, which can remain as dormant debris for centuries." Once this debris is on the seafloor, it smothers biological structures such as coral reefs and creates a plasticizing effect that can inhibit gas exchange between sediment and the water column. She says that this is the first time she has been "legitimately frightened by PPE pollution. "To see it in the water, in the environment that holds my heart and my passion. To see it at home, on my doorstep. It hit me very hard."
1️⃣5️⃣2️⃣ plastic gloves and face masks found during today's #LitterPick…

🌊 This wave of #PPEPollution is relentless… but can be resolved, if we are all responsible with our waste.#PlasticPandemic pic.twitter.com/1sAprnmZ3q

— Beach Guardian (@PlasticWaive) August 6, 2020
Emily firmly believes that with small steps, we can work together to solve this problem on a global scale. "The saving grace of COVID-19 has been our unity; the whole world has faced the virus together," she noted. "If we continue with the same global collaboration, we can resolve this. PPE is in all of our lives; we use it or see it every day. But it is for this very reason that we can all do something about it."