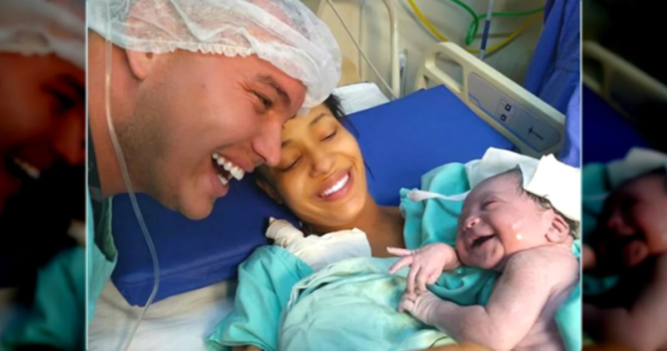 There's no question that little Antonella is a daddy's girl. The sweet newborn is making headlines because of a photo in which she smiles after hearing her father's voice for the very first time.
Flávio Dantas of Brazil made a point of talking to his daughter while she was still in her mommy's womb every single day.
"He always told her that he loved her so much," mother Tarsila Batista said.
Tarsila described how a smitten Flávio would greet Antonella each morning and again after coming home from work. He'd stroke Tarsila's belly and ensure his baby girl that dad will always be there for her.
So, on the day little Antonella finally made her big debut into the world, she had the most beautiful reaction to her dad's voice!
After the delivery, doctors handed the sleepy baby girl over to her parents. And as Flávio starts repeating the things he said to his daughter throughout the pregnancy, Antonella immediately lights up the room with her first smile!
"They put her on top of me sleeping and as soon as he spoke to her, Antonella opened her eyes and smiled," Tarsila Batista recalled.
Lucky for us, cameras managed to capture this incredible moment. And since it was taken, the beautiful photo has gone crazy viral ever since!
Sharing this special moment of joy between parents and their smiling baby is truly a blessing.
"I thought I knew what a feeling of true love was, until I looked at that most sincere smile in the world … it was [there] that I could be sure what love is," proud papa Flávio said.
And as if the moment wasn't already special enough, Tarsila happened to give birth to Antonella on August 11, which just so happens to be father's day in Brazil.
Proud dad Flávio gave a heartwarming description of his feelings for his baby girl as a love too big to fit in his chest. But of course, he wasn't the only one enchanted with the tiny girl.
Antonella's mommy described her as "a gift sent by my Lord."
This is the kind of love every child should know when they enter the world. And the joy reflected in this loving photo truly touches our soul.
What are your thoughts on the photo? Please let us know in the comments and be sure to share this beautiful love story with your friends and family.
Source: God Updates