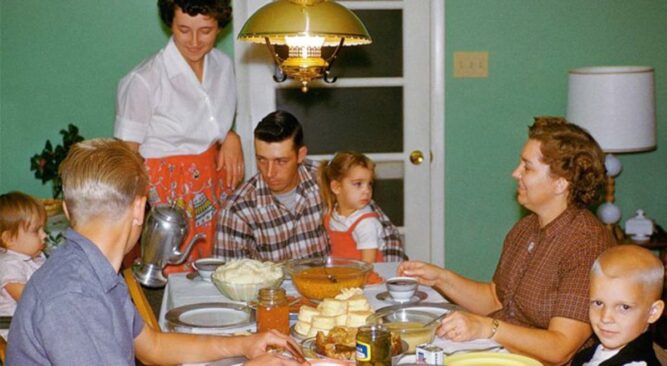 Some of the most cherished memories for a lot of folks involve being gathered around the dinner table with their family. Not so long ago, after the children came home from school, and when dad came back from work, the family would congregate at the dinner table while discussing the events of the day. However, while Sunday is still recognized as a family day, the traditional custom of family dinners seems to have disappeared within today's fast-paced society. But where did they go?
Many people chalk it up to folks just not having enough time anymore. But, the fact of the matter is that we all need to make time, or else, those family dinners that many of us still remember may not be around anymore. This tradition is more important to our society than you may realize.
The Importance of Family Dinners
Registered psychologist, and parenting expert, Dr. Vanessa Lapointe, has written extensively on the importance of creating designated family time through family dinners.
"The family that eats together thrives together. Mealtime has historically been a time of family togetherness. Plus, if you're getting multiple generations together, then there is tapestry of diversity in terms of ages and interests and that is just so good for kids."
Meanwhile, Ph.D., family therapist, and co-founder of The Family Dinner Project, Anne Fishel, also described the various benefits that come from family mealtime.
"The benefits range from the cognitive ones (young kids having bigger vocabularies and older kids doing better in school) to the physical ones (better cardiovascular health, lower obesity rates and eating more vegetables and fruits) to psychological ones (lower rates of depression, anxiety, eating disorders, substance abuse and fewer behavioral problems in school)."
She also explains that what you have for dinner doesn't matter and that it's the communal environment that family dinners create that makes all the difference.
"These benefits don't derive from a perfect roast chicken or organic tomatoes but instead from the atmosphere at the table — if there is conflict, stony silence or an intoxicated parent, these benefits do not occur. It's critical that the atmosphere at the table be warm and inviting, that kids feel that it is safe to talk and know that someone is listening," she explains.
With all this being said, it's vital to remember to set aside a bit of time out of your busy day for your family, especially at dinner time. These days a lot of people have to work on the weekends, even on Sundays. But if possible, also setting aside an hour for a family dinner will do wonders to relieve stress and bring your family closer together.
What do you think about the current state of family dinners in this country? Let us know your thoughts in the comments section, and please be sure to share this article with your friend and family.
Source: Doyouremember.com