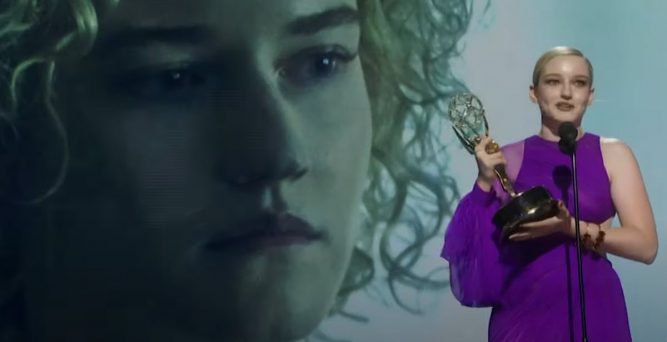 Actress Julia Garner was born February 1, 1994, in The Bronx, New York, in the Riverdale neighborhood to an Israeli mother and an American dad from Ohio. When she was 15, she started taking acting lessons because she thought it would help her to overcome her shyness. At age 17, she had her theatrical debut in Sean Durkin's "Martha March May Marlene" in the role of Sarah. It was in 2012 when she landed her first starring role in the film "Electrick Children." When she co-starred in "Sin City: A Dame to Kill For" in 2014, it was the first time she ever acted in a production that used a green screen.
Her most recognizable role came when she was cast in a recurring role in the popular period spy thriller on FX called "The Americans." She continued playing in "The Americans" through the sixth season of the show. Beginning in 2017, Julia has starred in the Netflix crime drama series called "Ozark," where she plays opposite Laura Linney and Jason Bateman. She has enjoyed critical acclaim for her performance in "Ozark" and has won a Primetime Emmy Award for Outstanding Supporting Actress in a Drama Series. She has also played in another Netflix series, "Maniac," as the sister of Emma Stone's character.
If you love this young woman's acting, you'll be excited to learn that she's going to be playing the lead role in an upcoming Netflix drama miniseries by Shonda Rhimes called "Inventing Anna." Shonda Rhimes is the creator of such shows as "Scandal" and "Grey's Anatomy." What a lot of folks don't know is that apparently Julia Garner is quite good at doing impressions, which makes sense since acting is very often a lot like doing impressions. In the video below, this talented young woman does an excellent job of impersonating Britney Spears and Gwen Stefani.
Watch the video below.