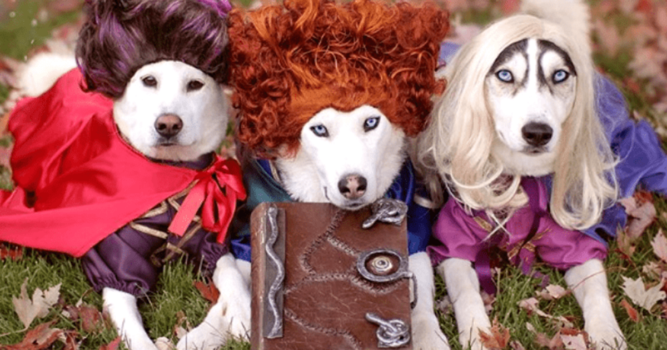 Two Huskies and a Labrador have cast an enchanting viral spell over the internet, and folks just can't get over these adorable pup's brilliant Halloween Cosplay!
Recently a trio of three gorgeous dogs created a major buzz on social media by posing dressed up as the iconic Sanderson sisters from the classic movie "Hocus Pocus."
In the photo, a white Labrador is rocking the Mary Sanderson look along with two huskies dressed up as Sarah and Winifred. The Bette Midler of the pups also has a spellbook and it is quite literally the cutest thing in the universe!
They are decked out in full costumes inspired by Hocus Pocus, complete with wigs.
And it's almost unreal how patiently these pups must have been waiting for their human to take a picture while they posed like pro models!
But this isn't these pup's first rodeo. You can check out some of their other adorable pics on their 2husketeers Instagram page.
For example, how about these husky pineapple queens?
And these pups go All-American in this adorable 4th of July pic.
But as far as dressing up for Halloween goes, there are a few other pups that give these dogs a good run for their dog treats! Here ten pups dressed in adorably-scary costumes that will brighten your day!
#1. Pennywise – IT
#2. Red Riding Hood and Grandma
#3. Kaonashi – Spirited Away
#4. Dobby dressed as a free elf – Harry Potter
#5. Space Pup!
#6. How about this Freddy Kruger Husky from Nightmare on Elm Street?
#7. Check out Sparky as Frankenweenie!
#8. How cool is this one? Doggie is served!
#9. Now this pup sent chills down my bones!
#10. And finally Cerberus from Harry Potter.
Source: Apsari.com