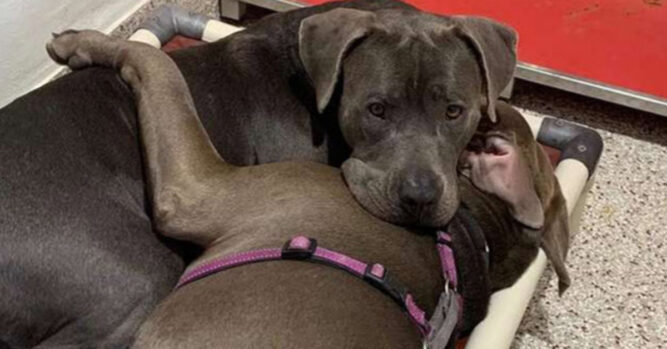 We have all probably had many friends in our life. Some of them stick around for a little while and others tend to come and go very quickly. Every once in awhile, however, we find a friend that is more than just a companion, they are a soulmate. It seems as if they follow us everywhere in life and when we need them to be by our side, they are not very far away. They also tend to be the people that are most honest with us, providing us with opinions when we really need them.
When we meet a friend, especially one that is extremely close to us, it often comes as a surprise. In fact, they may come from the most unexpected places. That is what Agatha and Jukebox experienced. They are two pit bulls living in Tucson, Arizona at the Pima Animal Care Center. They came into the shelter separately, Agatha was surrendered by her owner and jukebox came in as a stray. When they met each other, however, they quickly bonded.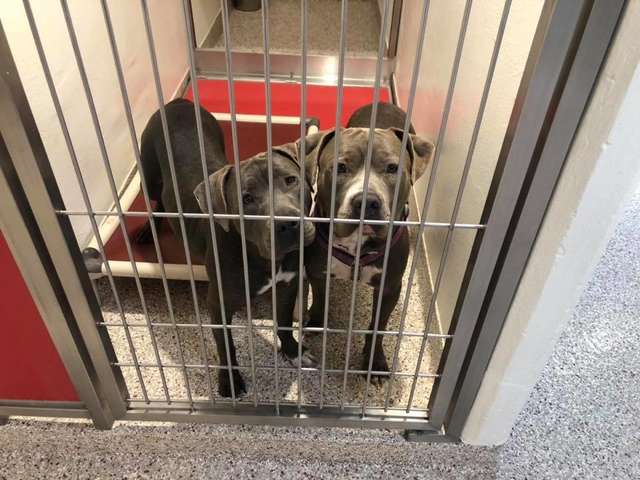 "Typically when a bonded pair of dogs come in the shelter, they've spent their whole life together," Kristen Hassen-Auerbach, director of animal services, told The Dodo. "But with these two, they didn't know each other. They met in a playgroup one day and from the second they laid eyes on each other they became inseparable."
The two dogs were having a difficult time at the shelter but, thanks to their friendship, they were not very anxious or depressed. "Despite the fact that they are living this life of confinement, which is super stressful on most dogs, they take so much comfort in each other's presence," Hassen-Auerbach said.
The two dogs now share a kennel and they can spend all of their time with each other. It isn't necessary for them to have their personal space, they would rather cuddle up with each other anytime they can.
"There's plenty of space for them to stretch out," Nikki Reck, public information officer for Pima Animal Care Center, told The Dodo, "but they share that tiny little bed together and that's how they prefer it."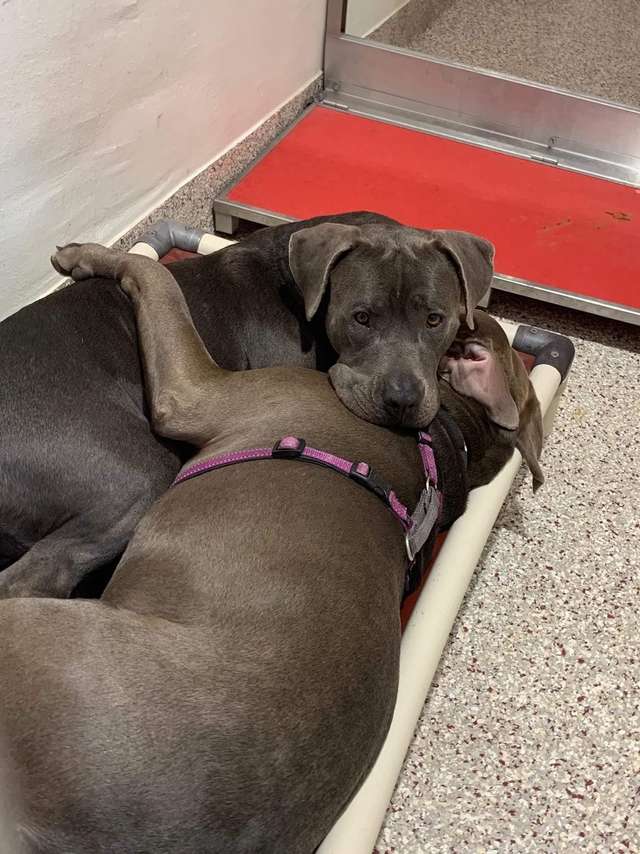 When a picture of the two dogs was posted online it went viral. The staff at the shelter was hoping to put some attention on those two dogs, hoping to find them a forever home together.
"Typically we don't say 'these two have to be adopted together' because that makes it take longer for them to find a home," Reck said. "But with these two, we just can't bring ourselves to split them up, so we're hoping against hope that we can find a home for them together because the two of them are meant to be."
In the meantime, they are doing what they can to make everyone passing by fall in love with them.
"Every time people come in the shelter they catch their attention," Hassen-Auerbach said. "You walk by their kennel and they're always doing one of 20 cute things. They're either laying upside down on their backs together, or one of them is licking the other one."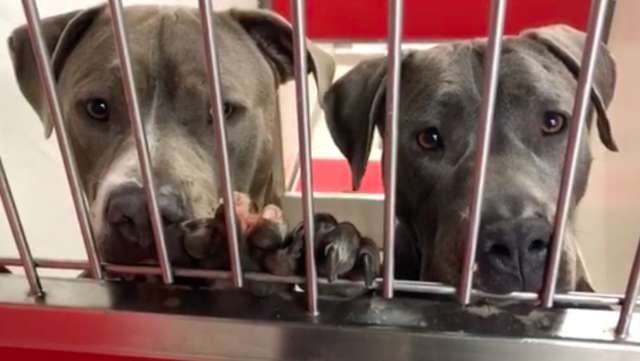 When you stop to think about the circumstances, it's amazing that they came in at the same time. There are approximately 400 dogs at the Pima Animal Care Center and 17,000 are taken in every year. Since there are so many dogs to care for, some dogs get a home quicker than others.
"We're just looking for a home that's going to appreciate them as much as we do," Hassen-Auerbach said. "They're like doggy TV for us. When any of us are having a hard day or feeling down, we just go watch Agatha and Jukebox together and you feel happier."
Source: DoDo