Neighborhoods don't see ice cream trucks as often as they used to. In fact, I've not seen one in years. We don't have them out in the country where we live, but anytime I've ever been in town or in the city, I've never seen an ice cream truck. However, with coronavirus lockdowns and people spending more time at home, not to mention schools being closed, I have a feeling ice cream trucks are going to make a comeback. People aren't as mobile as they used to be and things are probably going to be slowed down for a while. Also, as people grow accustomed to spending time at home, I think we'll see more of that.
It makes sense for the ice cream to come to the people since the people can't get out to get the ice cream. Some savvy entrepreneurs will be capitalizing on this, we can be sure. And ice cream trucks are so much fun. Creepy movie scenarios with weirdo ice cream truck guys aside, the ice cream truck coming onto our street when I was growing up was always something we looked forward to. I have distinct memories of hearing his little tune playing and rushing inside to get some change from my mom. Of course, the worst thing was waiting in line. The anticipation was palpable and we just couldn't wait.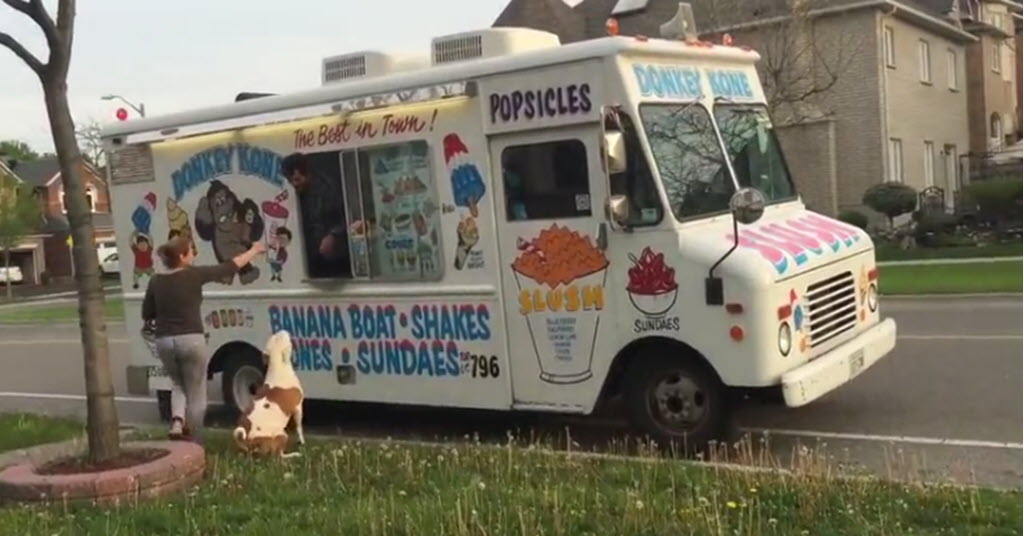 Because of all of that, I know exactly how this feisty pitbull feels about his ice cream. He3's waiting there ever so patiently and politely for his turn. An anonymous video was posted to YouTube that shows this good boy and his owner making their way to the ice cream truck. A woman carrying a small dog was at the window getting her ice cream and the big guy just sat patiently on the side waiting for his master, his tail wagging excitedly.
He was even smacking his lips in anticipation, and sure enough, his owner finally got her cone and took a few licks, then it was all for him. This big gentle giant took it all in one gulp. I'm not judging him. Yes, we know it's not good to give ice cream to dogs and we don't do that. But that doesn't stop us from enjoying this dog's delight. Watch this adorable video below.