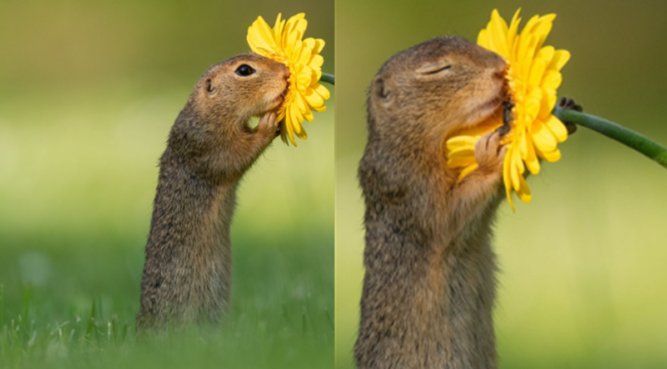 A photographer in Vienna, Austria managed to capture the exact moment a small ground squirrel stopped his busy life to smell the flowers — apparently in order, to find out which one might taste the best.
"I was really happy after capturing a photo like this," the photographer said. (SWNS)
Dick van Duijn, 34, from the Netherlands, told SWNS that it took him two hours and around 200 photos to capture this moment.
In the photos, the little squirrel reaches for a yellow daisy and touches the flower to its face. It closes its eyes as it seemingly inhales the flower's fragrant scent. Moments later, the rodent leaned in and took a nibble, said the photographer.
"This curious ground squirrel started smelling and tasting the flower," the photographer recalled. "I was really happy after capturing a photo like this."

"I went to Austria especially to photograph the ground squirrels," he added. "It was great to witness this, and very satisfying."
This story serves as a lesson for us all to stop every once in a while to smell the flowers. But maybe not eat them…
What do you think of these photos? Let us know in the comments section and please be sure to share this with your friends and family.
Source: Fox News