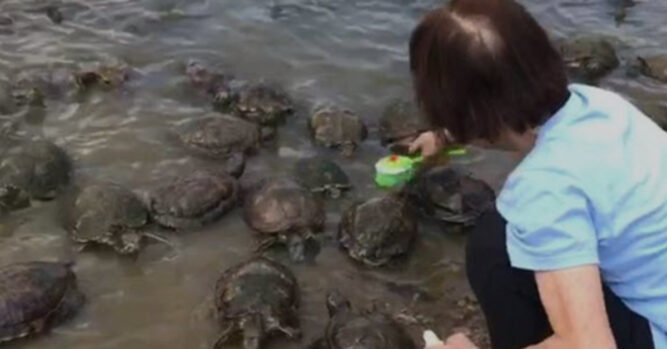 Humans and animals have always shared a connection. Perhaps you have experienced it for yourself when you had a beloved pet in your home. You might also enjoy watching videos of wild animals on tv or on the internet. In any case, it seems that the more we learn about the animals around us, the more we appreciate them. That is sure to be the case when you see this video of a woman having a rather surprising interaction with some turtles.
It happened at the Singapore Botanic Gardens when a visitor was walking through and saw something they could never have expected. They saw a woman hunkered down by the water and she had a lot of unusual friends coming to her. She was entertaining a bunch of turtles. In her left hand was some food, and they were in a hurry to get to it. IN her right hand was a brush, and the turtles seemed to really love getting the attention.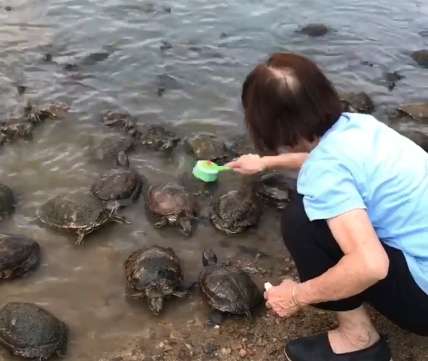 Nur Hafiza Ariffin was visiting the garden recently when she saw the woman crouched at the edge of a pond. In her hand was a bristled scrubber.
It seems as if Ariffin was not the only individual in the area who notices.
Dozens of turtles were in front of her, coming out of the water and getting their shells scrubbed.
Facebook video may take a moment to load:

She thinks that the woman was trying to remove algae from the shells of the turtles and they seemed happy to accept.
"Spreading kindness in every way possible," Ariffin wrote. "[The turtles] happily came towards her to get their backs cleaned, and once it was done they cutely walked off."
"Such a heartwarming sight," she added.
Apparently, even if a turtle does not need to be cleaned, they still enjoy feeling the bristles on the brush against their shells.
No wonder she was such a popular attraction.
Source: The DoDo