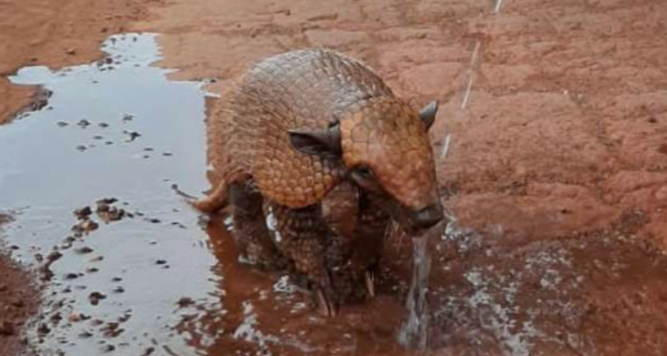 There are times in life when even the simplest of kind gestures can make the biggest difference.
Caio Giovani understands this lesson; just ask the little creature whose life he may have saved one day.
The other day, Giovani was driving a truck along a desolate and arid stretch of highway in Mato Grosso, Brazil, when he became aware of a small obstruction ahead. Giovani decided to take a closer look and came across what appeared to be a desperate and exhausted armadillo.
"I could see he was not well," Giovani told The Dodo. "It felt like he was asking me for something … for some help."
Fortunately, Giovani was kind-hearted enough to come to its aid. Remembering that he had a tank of water in the back of his truck, Giovani picked up the armadillo and brought him to the open spigot.
Here's the heartwarming video of what happened next.
Tive privilegio de Dar Água a Um ser que estava morrendo de cede e fome em meio a uma lavoura em campo novo do Parecis MTUm Gesto Simples mas que vai marca pra minha vida 🙇‍♂️

Posted by Caio Giovani on Tuesday, August 27, 2019
Giovani watched as the armadillo basked in the refreshing stream of water, waiting until the creature seemed to have its fill.
Then, after carrying the armadillo to a shadier area, Giovani gave him a banana just in case he was also hungry.
The two then parted ways — one whose life was restored thanks to the one fateful stop; the other whose spirit was exalted, having been given the opportunity to help a creature in need.
What do you think of Giovani's story? Let us know in the comments section, and please be sure to share his act of kindness with your friends and family.
"I left him on the edge of the woods," Giovani said. "He was much better."
Source: The Dodo