What is the first thing that comes to your mind when you think about having a pet in your home? For most people, it is going to be a smaller animal and dogs tend to be a family favorite. They are great to have around because they provide you with lots of love and they can also be very entertaining as well. They can learn tricks, act a little goofy sometimes and when you are really bored, you can engage them in the fun game of fetch.
Most of us would never think about playing fetch with any other animal other than the family dog. As it turns out, however, there are other animals that can enjoy the sport and if you don't believe me, you are about to have your mind changed quickly. We have an amazingly adorable video that shows an animal playing fetch with her human mom and it isn't a little house pet, it is a cow! In fact, this bovine is so adorable that you will have to watch this video over and over again.
The cow's name is Lotta and she loves playing fetch with Jasmine Fenah Sjögren, her human owner. They live near Gothenburg, Sweden on a family farm. She loves playing with her cow and having some fun. It's a great way to keep the animal and herself active and happy.
Lotta chases a gym ball when Jasmine throws it or kicks it to her. She pushes it around with her nose and brings it back so they can start playing the game all over again.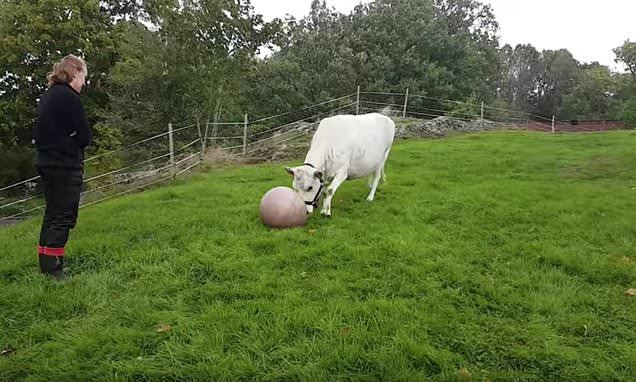 When the video was put online, it went viral and it is easy to see why. It is sure to bring a smile to your face and put one on your heart as well. After all, what could be more adorable than watching a cow running merrily through a field chasing after a ball?
The ball was a gift for Lotta three years ago when she began experiencing anxiety because she didn't have calves. The ball brought her joy and now it is her favorite toy. You can watch her playing with it in this adorable video: