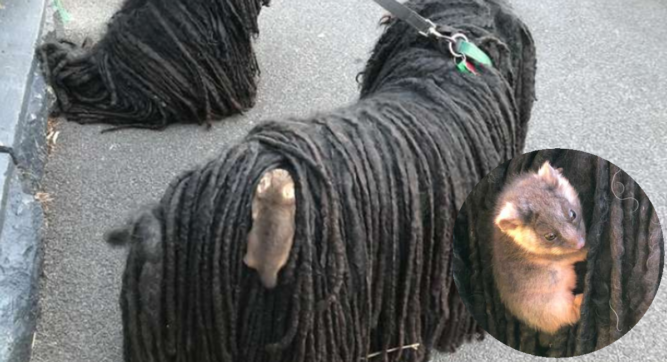 There are times in life when the best thing we could do for someone is just be there for them. Just ask Kato, a puli dog, who recently became an accidental temporary mom to an unlikely baby.
One day, Sally and Jon Watkinson, a couple in Melbourne, Australia, discovered a baby possum nestled in the fur of their pup's corded coat. With nowhere else to turn, it seemed that the scared animal put all his trust in the puli, and was not disappointed.
While it's true that dogs and possums do not typically get along, both of the Watkinson's dogs surprised their mom with their calm reactions to the tiny hitchhiker.
"Hugo and Kato seemed to barely notice it was there," Sally Watkinson wrote in a Facebook post. "It's most surprising that Hugo was not barking frantically at it. Apparently, Kato was seemingly oblivious also."
After contacting animal wildlife rescues, the couple walked their pups to the vet with the possum still hanging on, so that the little guy could get checked for injuries.
The young possum seems to be doing just fine and stayed at the vet overnight before he was transferred to a wildlife center. Watkinson also mentioned that the possum would need some hand-rearing before it can be released back to the wild.
"I think he will be OK," Watkinson wrote in a response to a Facebook comment. "[He's] probably not quite weaned yet but seemed well enough and was clinging on for dear life. I think he found the right dog for that. His eyes were pretty bright still."
While the possum is in safe hands, the Watkinson are not finished helping the little animal. They've asked local animal control to keep them updated on the possum's progress and to let them know if they find the baby's mom.
"Apparently, if you catch them soon enough they can successfully be reunited," Watkinson wrote on Facebook.
It just goes to show you, that treating someone with kindness can make a big difference in someone's world. Especially if that someone happens to be a scared baby animal who has nowhere else to go.
"They both just seemed to accept it being there," Watkinson said.
Source: The Dodo