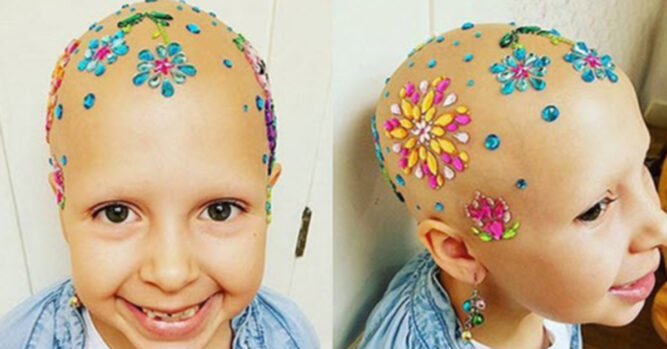 Many people stress over losing their hair, especially when it actually starts to happen. They will do almost anything to try to keep it from falling out but when it does happen, you can either stress over it or take a page out of eight-year-old Gianessa Wride's book and 'make lemonade out of lemons'. What she did is inspiring people around the world for all the right reasons.
When Gianessa's hair began to fall out suddenly in clumps, it took her mother by surprise. Daniella Wride was trying to remove tangles from her daughter's hair in January 2017 but the more she brushed, the more hair kept falling out. It only took 21 days until her hair was completely gone. It was then that the family realized that she had alopecia, and autoimmune disease. The hair that she lost, including her eyebrows were not likely to ever grow back.
"It was upsetting to her," Gianessa's mother, Daniella Wride, said, "and it was hard for me as well, but not because of what she looks like. I was more upset thinking that somebody might bully my daughter and I didn't want her to ever feel less beautiful than she is."
Many schools hold a 'crazy hair day' competition and it allows the students to comment with their hair decorated in many different ways.
Daniella heard that her daughter's school was also holding such a competition during Spirit Week. She knew that her daughter did not like wearing wigs or scarves, so she decided to make the most out of her baldness.
The inspiration came when Daniella was walking through the scrapbooking department at a local store. The 30-year-old mother found a number of adhesive jewels and she knew that her daughter loved glitter. At first, she was afraid that her classmates would think that her daughter was weird for bedazzling her scalp but within moments, the worry disappeared.
Not only did people love the look, they gave her first place in the competition. After posting the pictures on Instagram, they went viral and now the girl is looking for other ways to decorate her bald head. "I was sad at first when I lost all my hair, but now I love being bald," she said.
"I can do things to my head that other kids can't. I'm thinking now it might be fun to decorate my head with some sparkly butterflies and flowers." Gianessa has always been a big fan of anything glittery or shiny. One day she even hopes to be a fashion designer.
"So putting stick-on jewels on her head really is a good fit for her personality," she says. "And it adds some fun to what could be a stressful time for a girl with no hair. It's my hope that she'll continue to want to be herself and express herself in any way she feels comfortable, as she grows older."
Daniella is hoping that all of the positive responses they have received will raise awareness about alopecia and inspire others to help their family members in unique ways.
It is thought that the loss of her grandmother caused stress that may have triggered the hair loss. "Your hair doesn't make who you are — it's whats inside that counts," she said. "That's what we tell Gianessa. People feel inspired by her, and that's wonderful. We're hopeful that she'll show other bald kids that they can also embrace their baldness and can rock any look they want, in any way they can."
Source: GoMcgill